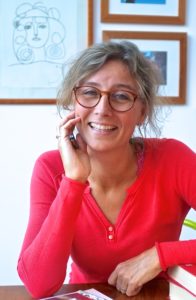 Hello! I am Ane, a Danish illustrator and author based in Luxembourg.
I love minimalism, strong colours and paper cut.
I have a quirky spirit, great imagination and rigorous work ethic, and am capable of transforming a message into text and image with vision and professionalism.
I speak and write excellent French, English and Danish and understand well Luxembourgish, German, Spanish and Italian. 
For all inquiries please write to anemarcussen@gmail.com or visit my instagram profile ane_erezue
Coucou ! Je suis Ane, illustratrice et écrivaine danoise basée au Luxembourg.
J'adore le minimalisme, les couleurs fortes et le papier découpé.
Avec mon esprit farfelu, ma grande imagination et ma rigueur de travail, je suis capable de transformer un message en texte et image avec vision et professionnalisme.
Je parle et écris parfaitement le français, l'anglais et le danois et comprends bien le luxembourgeois, l'allemand, l'espagnol et l'italien.
Pour tout renseignement vous pouvez m'écrire à anemarcussen@gmail.com ou visiter mon profil Instagram ane_erezue