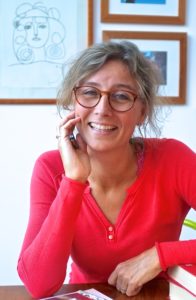 Hello! I am Ane, a Danish illustrator and author based in Luxembourg. I love minimalism, strong colours and paper cut. I prefer working within social, ecological and spiritual transition.
I have a quirky spirit, great imagination and rigorous work ethic, and am capable of transforming a message into text and image with vision and professionalism.
Recently, I have made illustrations for the solidary and pedagogical garden Vum Gréis and icons for the multi-profession cooperative CoBees. At the moment, I am working on two children's books, a music video and a Family Friendly label for public places.
I speak and write excellent French, English and Danish and understand well Luxembourgish, German, Spanish and Italian.
Coucou ! Je suis Ane, illustratrice et auteure basée au Luxembourg. J'adore le minimalisme, les couleurs fortes et le papier découpé. Je préfère travailler dans le domaine de la transition, de la conscience environnementale, sociale et spirituelle.
Avec mon esprit farfelu, ma grande imagination et ma rigueur de travail, je suis capable de transformer un message en texte et image avec vision et professionnalisme.
Récemment, j'ai réalisé les illustrations pour le jardin solidaire et pédagogique Vum Gréis et les icônes pour le site web de la coopérative multi-métier CoBees. Pour le moment, je travaille sur deux livres pour enfants, un clip vidéo et le label Family Friendly.
Je parle et écris parfaitement le français, l'anglais et le danois et comprends bien le luxembourgeois, l'allemand, l'espagnol et l'italien.